© Kjell Ringi 2004
Website by NBK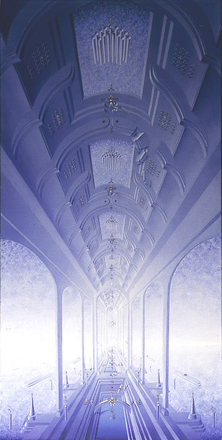 "Horizon V", 1993. Acrylic on Canvas
170 x 85 cm
KJELL RINGI SWEDISH PAINTER

Exhibition at Röhsska, Gothenburg
6 aug 2009 - 23 nov 2009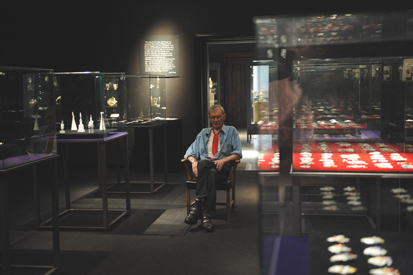 Kjell Ringi has spread his unique world of art globally, but primarily across the U.S. and Europe. His works consist mostly of paintings, as well as graphics, official posters, art books, films, sculptures and designed monumental objects.

Today, we are inundated with novel forms of pictorial representation. To stand out, one
needs to display a personal touch-a hallmark of Kjell Ringi's. He does not follow trends nor does he remind us of other painters. Rather, he creates totally unique works of art with a personal style all his own. He says: "I work constantly to be able to create my own world-for me, it's 100% or nothing at all."

All Ringi's works are detailed and colorful and have to be seen in real life. A couple of gallery sites represented show excerpts of his different techniques. Some pictures have been enlarged in order to display them in greater detail. However, the medium of the Internet do not do them justice.
For Ringi's comprehensive career, see his "BIOGRAPHY".

Below are samples of a new experimental collection in acrylic and mixed medium. The three paintings displayed are encased in glass or plastic boxes to create a vision of depth and detail on two different levels. See "GALLERIES" for more.